Concrete mini pot
Whether at home or at work, every time I feel tired due to work pressure or life with lots of worries, just looking at the mini bonsai is lovely and the spirit will be much better. . Not only that, using small plant pots like Concrete mini pot placed on a desk, decorated the living room or small lovely corners make the space more fresh and brilliant.
Hieta garden concrete mini pot has a compact design, suitable for growing small plants such as stone lotus, cactus, kim Ngan, …. This model looks outside looks simple and rustic, but the application itself It is simple to bring luxurious beauty, impressive for pots.
Concrete mini pot is designed in a rather fancy shape, looking above is a diamond with gut, looking around is the cohesion of triangles, all create a very impressive total. In addition to the unique design and original color-keeping concept, the Concrete mini basin offers a rustic and idyllic beauty, easily embellishing the sweet flavor of ornamental plants.
Simple but not monotonous and boring is a factor users can see in the form of Concrete mini pots, it gives the audience a feeling of lightness and attraction. Especially, this model is easy to grow beautiful small plants, easily create harmony and eye-catching space.
In addition, Concrete mini is also made from fiberglass concrete material, a new material has many outstanding advantages compared to previous types of pots. The pot is very durable, does not crack and is suitable for all weather conditions, because the surface has been treated and perfected, washing acid during the production process so that the pot will not become moldy and water permeable. The outstanding feature of fiberglass concrete is that the pot is very durable, the surface of the pot if not treated will be quite similar to natural stone. Concrete mini pots are environmentally friendly materials so users can feel secure when choosing to arrange and plant trees.
Possessing outstanding advantages from quality to price, style and size, concrete mini is the ideal choice to meet the increasing demands of modern life trends, in accordance with style. Europe.
Information about mini Concrete:
– Material: Glass fiber concrete – 70% lighter than natural stone material
– Color: washed gray.
– Simple, exquisite and luxurious design
– Used for living room, lobby, office, …
– Produced according to European standards in Vietnam
– Size: 12cm H x 9cm W x 9cm D
Black poly terrazzo pot
We often see potted plants in the interior space, the presence of lightweight concrete garden pots often represent class, elegance and bring warm air to your interior.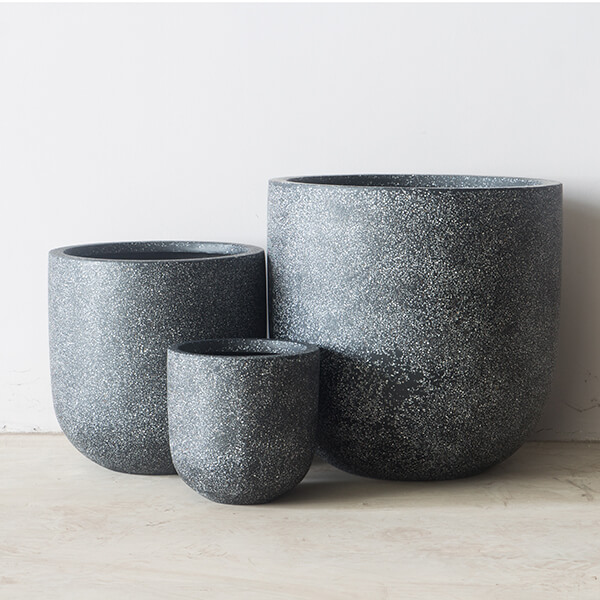 Hieta garden black poly terrazzo pot has a simple but extremely delicate and beautiful texture, made from high-grade fiberglass concrete material so the pot is very durable, beautiful surface, good resistance in all, forming a whole harmonious and sustainable. Products that can be used for many years in the outdoor environment, have an elegant look, become an interior and exterior decoration product to beautify the living space.
Black poly terrazzo pot is designed with modern circular cylindrical shape, dedicated to spaces aimed at freedom and liberation, while creating a distinct personality that does not mix between the surrounding space. Besides the color and surface of the Black poly terrazzo pot is also very impressive, the dark brown color points to the beautiful white speckles. The design and colors are rustic but it is an impressive highlight, contributing to giving your space exquisite and luxurious beauty.
The black poly terrazzo pot is very diverse in size, depending on the space and location you need to arrange to choose the right size. On the general foundation of lightweight concrete material, dynamic design, luxurious colors and rich designs, Black poly terrazzo pot is really a product worth choosing for people to arrange living and working space. job. Black poly terrazzo pot suitable for exterior, balcony, hallway or main layout in the interior space of the house.
In addition, the black poly terrazzo pot with a simple design creates a big plus when easily arranged in all spaces, not fussy about the tree shape. This is also a model of super cheap pots compared to other types of pots in the market, helping you decorate the space satisfactorily without worrying about the high cost. Whatever your house is designed, Black poly terrazzo pot is always "an effective assistant" to help the space become lively and harmonious. Or simply this is also the perfect pots to adorn the hard and boring spaces.
Information about Black poly terrazzo pot:
– Glass fiber concrete – Less than 70% lighter, the surface resembles natural but lighter rock.
– Color: Black with salt speckled pepper.
– Modern, sophisticated and luxurious design
– Anti-weather, anti-UV, snow, …
– Produced according to European standards in Vietnam
– There are many sizes to easily choose: 50 × 50; 40 × 40; 30 × 30; 20 × 20